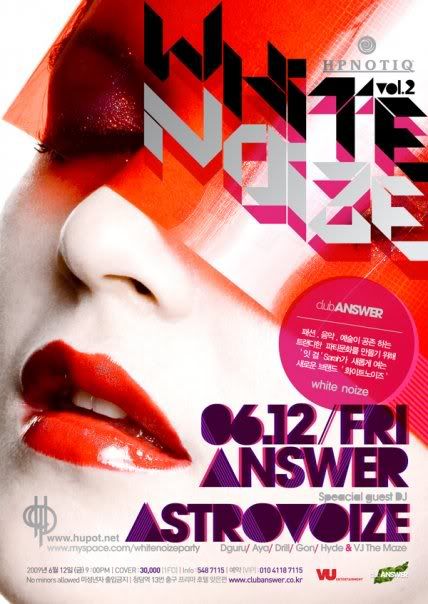 www.myspace.com/whitenoizeparty
when / Friday, 6.12 @ 9:00PM
where /
Club Answe
r, 청담동 프리마 호텔 맞은편
cover / 30,000won /

1 free drink & Free Mix CD (WHITE NOIZE Vol. 1 ft. ASTRO VOIZE)


special guest DJ /

ASTRO VOIZE!
www.myspace.com/mikaellengend
PS: DRESS UP MADLY! 화려한 의상과 새로운 패션을 추구하는 모습으로 꼭 참여바랍니다. 추첨을 통하여 HUPOT 레깅스와 티셔츠를 드립니다.
VIP table bookings and awesome outfits receive free gifts! Fierce graphic leggings and T-shirts from Human Potential!
V.I.P. 테이블은 추첨과 상관없이 HUPOT 레깅스와 티셔츠를 드립니다.

www.hupot.net
xoxochadchad